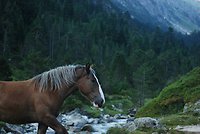 Moving on ...

"The reason why we concern ourselves with our past history is not because of what it was ... but because of the mark it has left on you or me or us, now" (Bion 1997:38)

Wellbeing and better understanding
Therapy is ultimately about increasing your wellbeing. The process often involves putting symptoms into context and approaching problems from new angles. Sometimes this involves looking back, and putting present symptoms into a context of past experiences and events. Sometimes there are social, cultural (multilingualism included) events, or for human beings existential 'givens' (like meaning searching, ageing or death) to consider when viewing crisis from new perspectives.

There are no fixed answers in therapy, but there are certain tried strategies for exploring problems from new angles to regain control over life

Big or small problems?
Therapy can help with both big and small issues.

Destructive patterns
Some feel 'stuck' in destructive relationships or suffer from ongoing depression, anxiety or eating disorders. Therapy offers a space to explore unhelpful patterns. An open ended treatment may be discussed in case of recurring problems to allow time to "get to the root" of the problems and develop new ways of coping.

Sudden crisis
Sudden crisis like bereavement, illness or an accident can turn our world upside down at a time when surrounding family members or friends often are emotionally involved. Time limited counselling and psychotherapy can offer an important space to review events objectively.

Life transitions
Life transitions are common triggers for therapy. Marriage, divorce, pregnancy, bereavement, menopause and empty-nest syndrome are universal themes which affect people differently. Therapy offer place and opportunity to make sense of such changes, with a focus on relationships patterns and self-confidence issues.

The assessment session
During our first consultation, issues like the above will be discussed. The assessment session offers both a "taster" of what therapy involves and an opportunity to ask questions and explore.